Dixie Southern Racing Pigeon Association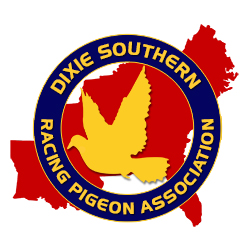 Welcome to our website
The Dixie Southern Racing Pigeon Association (DSRPA) incorporates the largest group of Handicap Racing in the world. We sponsor 6 races per year (3 OB and 3 YB) in which your club selects the race stations, flies the races, and mail in your results. The fastest speed wins, for which we provide monetary prizes for the first twenty positions.
Annual Convention and Race
We are a family oriented group, our host club sponsors an annual convention, in which we fly a race, conduct seminars, ladies activities and much, much more. The conventions are in selected areas of the Southeast each year, allowing us a chance to visit different beautiful sections of our DSRPA group. The host club puts on a tremendous convention second to none, in which the whole family can enjoy. Just ask anyone about the DSRPA conventions.
As with any large organization, the friendships that are cultivated during the conventions overflows into our private lives enriching our lives for many years to come. As the convention time approaches we all are as anxious as small children on Christmas Eve, we can hardly wait to see our friends again, relax, and have a great time.
The DSRPA has been extremely successful since the merger of the DIXIE and the SRPA in 1982. We are the biggest and best Racing Pigeon Association in the Southeast.
Contact our secretary for further information and requirements necessary to become a part of the greatest pigeon association in the southeast.
---
DSRPA Directors Meeting Minutes
Our last meeting was on December 15, 2017.
Open this link to see the minutes.
---
The 2018 DSRPA Schedule
Please see the 2018 DSRPA Schedule below, or
click here to view and print the PDF-file.
---
Pigeon Show, June 2018.
Augusta, Georgia. Do not miss this one!
See/print the list of Birds' Donators here.
See/print the flyer right here.